Topcon Announces GMS-2 GIS-GPS Mapping Receiver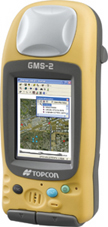 Topcon, the world's leader in positioning technologies and products, announces the revolutionary new GMS-2 hand held GIS-GPS receiver. This "World's First" instrument incorporates dual constellation satellite tracking, an electronic compass and a digital camera in one small, durable unit. Topcon's GMS-2 provides an unparalleled solution for multi-function GIS-GPS tasks in the field.
Topcon's imaging technology and electronic compass simplify and expedite GIS mapping tasks. Digital images, GPS coordinates, compass bearings, and attribute information can all be obtained with one instrument in a single trip to the field. The GMS-2 features Topcon's TPSCORE™ GPS chip for 50 channel tracking of both GPS and GLONASS satellite systems. This advanced technology can provide signal tracking for meter-level GIS mapping tasks or single frequency carrier tracking for high-accuracy static positioning. With an optional L1 external carrier phase antenna, the GMS-2 can be used to obtain data for post processing and accuracy within one centimeter.
Other features include a Windows CE™ operating system, a 625 MHz Intel® processor, and a bright color touch-screen display. Integrated Bluetooth™ technology enables connections to GPS CORS networks via a Bluetooth equipped cell phone. For GIS professionals, Topcon's new TopPAD™ software offers the capabilities of ArcPAD™ for field mapping and asset management tasks. The GMS-2 can also be configured as a field controller operating with Topcon's TopSURV™ software to provide communications with total stations and RTK GPS systems. The revolutionary GMS-2 offers professionals a flexible, multi-function instrument with superior performance in both GIS and land surveying applications.